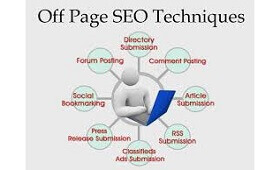 In the last to articles I explained about the off page strategies that will increase your website traffic. I this article which is the last one of this series I continue to explain about these SEO strategies.
Many people of the world are on Facebook, Twitter, Instagram and other social networks. You can share your blog and get notified by people. But it is not easy as it sounds. You have to create an extraordinary content which can draw the attention of people immediately as their eye moves on it.
Video and audio sharing sites:
Videos are great options to attract visitors. As you teach lessons to right visitors. It is the true fact that videos save the time of viewers As they easily understand the presentation.
Youtube is the 2nd largest search engine after google. There are other videos sharing sites like Dailymotion, Vine, Vimeo, archive where you can upload videos and get links.
If viewers like your videos they will like to subscribe your channel and visit your website. There are many websites which get traffic from video sharing sites only.
Web 2.0 sites:
Web 2.0 sites are very popular and important for SEO. These sites are the new generation of websites which are very interactive and user- friendly. You can communicate with other users by making comments, sharing and liking their posts.
And another important feature is these sites are completely free and you can start your website within 10 minutes. Take the example of Facebook, where you can share images, like posts, make comments etc.
You can get high-quality links from these sites. Post at least 400-500 words original articles with good keyword density. Backlinks from web 2.0 sites are important and valuable from search engine point of view. There are some high PR web 2.0 sites like weebly.com, blogspot.com, wordpress.com for off page optimization.
Use pinging sites:
Ping is a service which tells other search engines as soon as you publish a blog. In this way, web crawlers from different search engines find your post and it is indexed faster.
It helps you to increase page rank and traffic. But it should not be done more than once or twice otherwise it may be considered as spamming. Ping sites work as a messenger, which instantly send signals to important blogs and websites so that your blog will get notified.
There are different pinging services like pingler.com, ping.in etc. This is the most used Top off page SEO strategies that will increase website traffic.
Documents sharing:
Documents sharing sites are very popular as these provide link juice to your sites via your shared documents. The documents may be in the format of pdf, word doc, excel, ppt slide, images etc.
These sites are the great source to increase visitors to your sites as you are sharing free content for the readers off the page. You can get links from high PR sites and improve the SERP ranking in this way.
There are many documents sharing sites like Slideshare, Scribd, Issu, google drive where you can share your documents. Documents shared in these sites are indexed fast in search engines as these sites are highly authorized.
You can share images on Flickr, Picassa, Pixabay etc.
Directory submission:
Directory submission is the best method to get quality backlinks from high PR sites. These sites offer paid and free features. In the free feature, there is no guarantee of approval of the link or it may take a long time for approval.
But the paid feature gives the instant approval. It helps in better search engine ranking, faster indexing of blogs and pages, grows link popularity and increases traffic.
Business listing and classified sites:
You can submit your website to reputed business directories and show it to the local audience as well as the global audience. These business listing and classified sites can help you to grow your traffic and lead.
There are some popular business listing and classified sites like bing, Yellopages, Justdial, Yelp.com, Sulekha etc. You can submit classifieds in Us and other countries.
Submit site to different RSS directories:
RSS directories submission is one of the fastest methods to grow your site traffic. RSS directories are treated as high value by search engines and once you submit your site it is easily get crawled by bots. You can submit RSS feeds to increase daily readers, exposure of your blogs on these sites.
Publish articles:
Article publishing is one of the great ways to drive traffic to your website. In this way, you can answer client questions and solve their problems.Always submit the unique article to build the trust of the search engine. You can submit in articlebase.com, ezinearticles.com, storify, Hubpages etc.
Forum Posting:
Forums are the important place to share knowledge and discuss on a topic. There are many high PR forum sites like Siteground, Cnet, Microsoft, Seochat, Blackhatworld where you can join and share your knowledge.
People come to the forum to find the solution of their problem, if you have a good knowledge on a topic then you can give the solution and post your site's link.
I generally prefer quora and yahoo answer as microblogging and forum posting. There is a huge volume of readers on quora who can notice your post.
Summary:
These are the useful off page techniques which can be adapted as a beginner in the SEO field. There are some other methods like guest blogging and press release which you can try after some experience.
As guest blogging and press release are not easily approved so you try the above methods and then build the authority of your site.