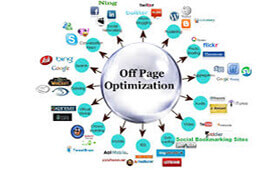 In last article I explained about SEO strategies that will increase your website traffic and in this article I will continue to explain this issue.
On page vs off page:
You have to give priority to both On the page and off the page SEO. I am going to explain of the page SEO here. But On page includes the optimization techniques carried on your website like title, meta, URL, heading optimization, good content with bold, italic, underline etc.
If you are optimizing your site for very low competition keyword then you can rank it on SERP without off page optimization. Whereas, off page takes place outside the page. And it plays a pivotal role to beat your competitors' ranks. Its other name is also link building. If you build good quality links with good authority sites then you can rank higher on Search Engine Results Pages.
Off the page SEO helps in increasing traffic in various ways.
The on the page SEO space is limited but off the page SEO space is very wide and vast and it is done as a team work. Many companies hire link building experts to improve their page rank.
If you do off the page SEO effectively then a high volume of traffic will flow to your site from 360-degree angle it may be from different search engines, Youtube videos, blog commenting, social share and bookmarking, guest post, RSS feed etc. I will discuss one by one in detail just read the article completely without skipping any step.
Blog commenting:
Blog commenting is one of the easiest off page SEO techniques which can give you back links in a short time. In this method, you need to read the blogs of different websites related to your industry and drop your comment and website URL in the box below it. In this way, you can get back links as well as build relation with bloggers.
Always comment on blogs related to your niche and read complete post before commenting.
Don't make a single line comment like what a wonderful post, thanks for such an awesome post etc. write at least 50-100 words.
Don't use links inside the comment box.
Write comments with your own style without copying others as the duplicate comment will not get approved.
Social sharing and Bookmarking:
This is one of my favorite Top off page SEO strategies that will increase website traffic and improve ranking.
There are various social bookmarking sites where you can promote your website, off the page to get a lot of visitors. The social bookmarking sites can improve your SEO ranking, domain authority, traffic, and Alexa ranking.
Some popular social bookmarking sites are Pinterest, Reddit, Stumbleupon, Del.io.us, Digg, Diggo, Scoop.it, Tumblr etc. Social bookmarking sites have a lot of active members who become the visitors when you submit the link to your blog. It helps your blog in fast and deeper indexing, improving quality as well as authority.
Bookmarking sites are generally two types i.e high PR and low PR. When you are getting links from high PR sites its value will be more. Submit links in both do-follow and no follow sites. On the other hand, social media sharing is the fastest way to grow the popularity of your blog.