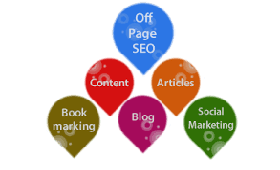 Off page optimization plays a major role in improving page rank. So how could I manage to get leads? That is the search engine optimization. It plays a major role to become successful in your business.
SEO takes time but it is very effective for long term traffic.
I will share with you the step by step off page SEO strategies that will increase website traffic. SEO is divided into two major categories on page and off page. The two play a major role in optimization.
First, you need to know what is off page SEO.
It is one of the major parts of search engine optimization techniques which are conducted outside your website. Some experts call it as link building. Link building is a part of off page strategy.
But off page SEO is beyond link building. In link building, you work for getting inbound links only. But in off page SEO, you have to work for getting links as well as visitors. It is important because search engines love back-links.
It makes your site an authority which is very important in the world of web. Take the example of a shop, when you are satisfied from a product you probably refer others to buy that product from that shop. The more recommendations make the shop establish itself as an authority in the market.
When the shop gets the reference from other shop owners its value grows more than getting the reference from an ordinary customer. In this way, it gets profit by indirect customers. Follow the Top off page SEO strategies that will increase website traffic and you will definitely improve your page rank.