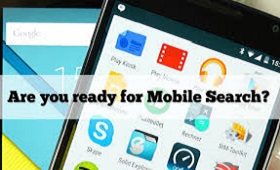 Optimizing for Mobile Search in 2017 part 3
In previous article I explained about optimizing for mobile search and in this article I continue explaining this issue.
Do Not Neglect App Store Optimization
A huge part of the mobile experience can also be found in the app store. Forty-two percent of mobile sales from the leading 500 merchants came through mobile apps. An estimated 60K apps are added on iTunes each month, and 50K are added on Google Play.
To get your app to stand out from this crowd, you need to focus primarily on the user experience. Customers use apps because they want an easier way to access what your brand has to offer, so the design of the app should always focus on the user.
The app should also be easy to find, meaning that full descriptions that contain relevant keywords are important. Just like any other search engine, the search functions in the app stores need to show the most helpful content to users.
To help improve your rankings, watch ratings, correct any problems and use language that users are likely to employ when searching.
Seven ways to win in Mobile Search & content in 2017
Know what your customers are doing on mobile and what they will want to see on your site. Look at customer behavior on your existing mobile site and compare it to behavior on desktop and in stores. See how the mobile site is influencing buying decisions and the pages that mobile users are most frequently visiting. Use your buyer personas for more research into what your visitors are likely to look for on your page.
Use this information to construct a site layout that takes into account mobile user behavior. For many sites, this will mean prominently featuring information such as store hours, organizing content so that it fits nicely in an accordion menu or adding click-to-call buttons so that customers can get in touch with the brand easily.
Create action-oriented and local content that will benefit mobile users. These consumers are interested in action. They are looking for an address, a phone number or information to make a purchase. By putting out content that helps to encourage this decisive behavior, you can move more customers towards conversion. As you develop this content, do not neglect the power of local in SEO efforts, particularly if one of the goals of your site is to drive more people toward a brick-and-mortar store. When creating a site, also take into account best practices like load time. Check your pages for any unnecessary images or scripts that could slow down the amount of time it takes for your page to load. While images do add value to your page, having too many can increase your load time, so always carefully gauge the value of any "extras" you put on the page.
Accordion menus are incredibly popular for mobile devices because of their ability to keep information organized and make it easy for mobile users to navigate. Remember these menu goals and work to organize your content to fit this arrangement. It will make your content easier to find and enjoy for those on mobile devices, thereby increasing engagement rates. Also, never forget the social nature of mobile phones. Make your content easy to share to take advantage of this phenomenon. The more your content is shared and explored, the better you will perform in SERPs.
As your efforts begin to bring in new customers, your engaging content should encourage conversions. Remember that task-oriented content can be very helpful in driving customers towards hitting the "buy" button or visiting you in a store.
You should always keep a careful eye on your mobile site to see how well your content and design are meeting your goals. If you see higher-than-average bounce rates for a particular page, for example, look for differences that might be turning away customers.
Employ mobile metrics to watch how customers are interacting with your mobile site and how it influences customer behavior across all channels. Remember that customers might shop on their mobile devices and finish their purchase in stores or on a desktop. Look at your conversions, your Share of Voice and similar factors that help you gain a good look at the big picture.
Final Thoughts
Mobile has taken the world by storm, and the trend shows no sign of slowing down. The year 2017 will see even more mobile growth as people recognize the convenience of using these devices to access the web and participate in mobile commerce.
Location-based marketing and mobile payments will be a key feature in mobile strategy in 2017. Brands that want to remain competitive need to optimize their sites, track performance and make sure their mobile strategy, not just site, is ready today.